News
Open Studio, June 2021
9th March 2021
Throughout the month of June 2021, SANCTUS SACRED IMAGES STUDIO will be open on weekends as part of the Samford, Queensland, Open Studio Arts Trail 2021.
Times: 10am - 4pm
Venue: Sacred Heart Catholic Church, 2 Camp Mountain Road, Samford Village, Queensland, Australia.
Days: Saturday's and Sunday's throughout June 2021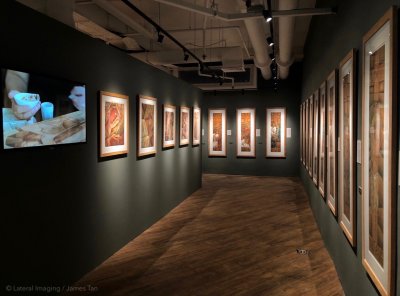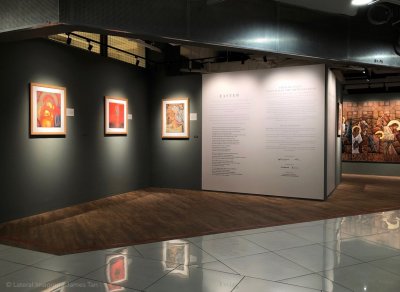 Exhibitions
2nd July 2019
"Stations of the Cross"

Far East Plaza

Unit #01-45

14 Scotts Road

Singapore

June-December 2019

Times: Monday - Sunday 10.30am to 6pm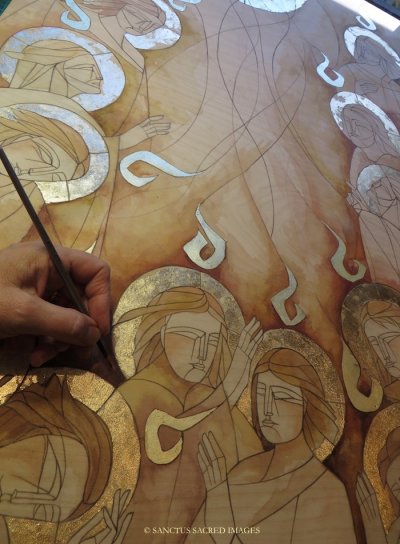 Artist in Residence, Singapore
9th August 2017
In April 2017, Dianne Minnaar was invited as resident artist at the Bible Society of Singapore's 180th Anniversary.

The original painting "Pentecost" was offered by silent auction to guests at the Anniversary Mission Banquet to raise funds for audio Scripture projects in Nepal and the Philippines.

To purchase reproductions of "Pentecost", please go to the GALLERY and CONTEMPORARY page on this website.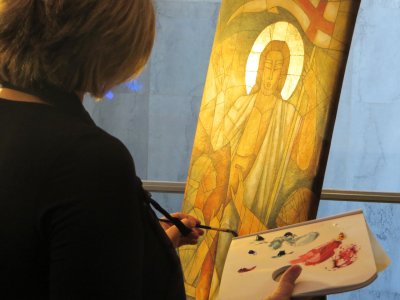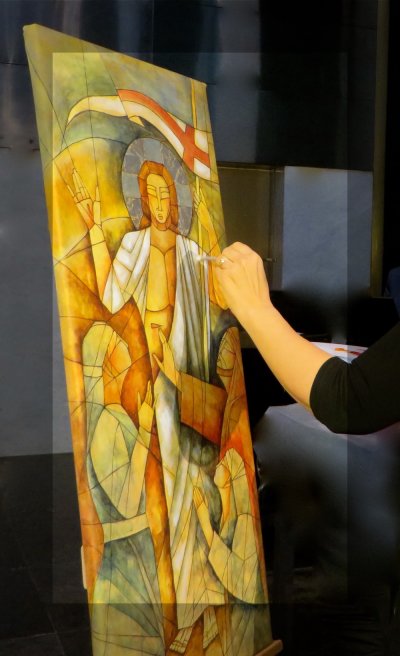 Artist in Residence, Philadelphia
1st July 2016
In June 2016, Dianne Minnaar was invited to attend United Bible Societies World Assembly in Philadelphia as resident artist. She completed a painting "He Is Risen" on site at World Assembly. The original painting was silent auctioned to raise funds for Bible Society Scripture projects "Earthquake Ecuador" and "Cyclone Fiji".

To purchase reproductions of "He Is Risen" please see the GALLERY and CONTEMPORARY section of this web site.
Messiah
19th January 2016
This painting was painted during lent and was exhibited at the Australian Catholic University, Brisbane, 2009. "Messiah" was acquired by the university for their private art collection.

The iconic image, calligraphic inscriptions of the names of Christ, colour, texture and symbolism combine to convey a powerful expression of Christ's humanity and suffering as well as His divinity and power over death. Saturated colour together with the nails against the wooden background, symbolise Christ's passion. The textured surface depicts the physical scars inflicted on Christ. A Divine inner light illuminates Christ's form as the resurrected Messiah.

Original painting: oil on canvas; dimensions: 1.1m x 1.2m.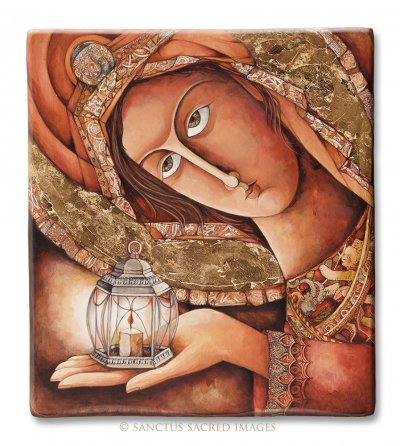 Reflection
19th January 2016
Creator of the universe...we all suffer from varying degrees of blindness. We are blind to love, to grace, to justice, to caring, to listening and to each other. Help us not to condemn one another in our blindness, but rather to work together to help one another see more clearly by Your light. Amen.

For with You is the fountain of life; in Your light we see light.

Psalm 36:9 (NKJV)